Boost to government's flagship plan to resettle refugees as communities step up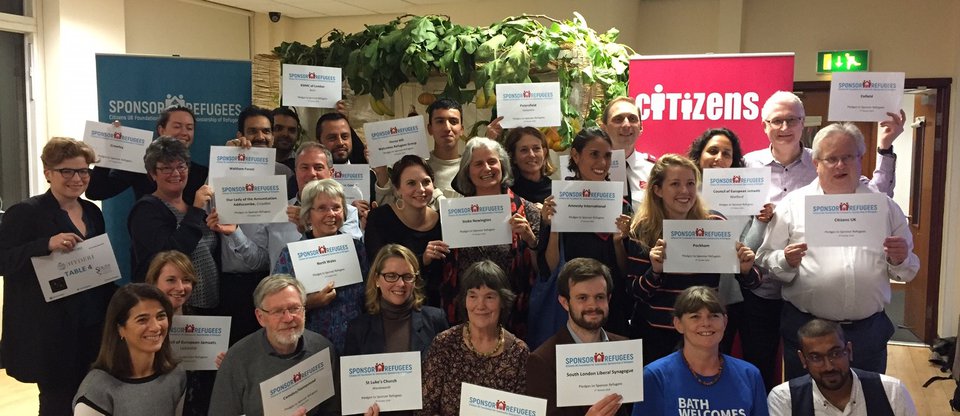 Community groups who pledged to sponsor a refugee family at the launch of Sponsor Refugees at East London Mosque.
Boost to government's flagship plan to resettle refugees as more communities step up to sponsor refugees
More refugees from the Syrian conflict will be resettled in the UK over the coming years with the launch of Sponsor Refugees , a foundation set up by Citizens UK to boost the community sponsorship of refugees.
Sponsor Refugees will advise and support faith and community groups who take on the responsibility of raising funds, finding a home and then welcoming and settling refugee families in their neighbourhoods.
Community sponsorship of refugees was launched by the Home Secretary, Amber Rudd, in 2016 at Lambeth Palace, and since then groups from Bude in Cornwall to Flixton in Greater Manchester, from Hackney in East London to Fishguard in West Wales, have successfully been pioneering the scheme.
The launch of Sponsor Refugees is set to boost the scheme, with more than 30 pledges to carry forward community sponsorships across the country made at the Sponsor Refugees launch event at the East London Mosque on Monday 9 th October 2017.
Muslim and Jewish groups are now taking up community sponsorship, alongside denominations and non-faith community groups.
Hasanain Jaffer from the Clifton Road Mosque in Birmingham is among those who will be taking forward community sponsorship. Hasanain Jaffer says:
"There is growing interest among British Muslims in sponsorship of refugees. We have amazing resources in our communities and are well placed to take on the responsibility for welcoming and supporting refugees from the Syrian conflict. The great thing about community sponsorship is that it involves government, local government, voluntary organisations and community groups all working together. Muslim institutions and their members have always been at the fore of charitable giving and stepping up for humanitarian causes. In this vein, Clifton Road Mosque will be stepping up to our moral and religious duty to sponsor a family and assisting the Methodist church locally in their application."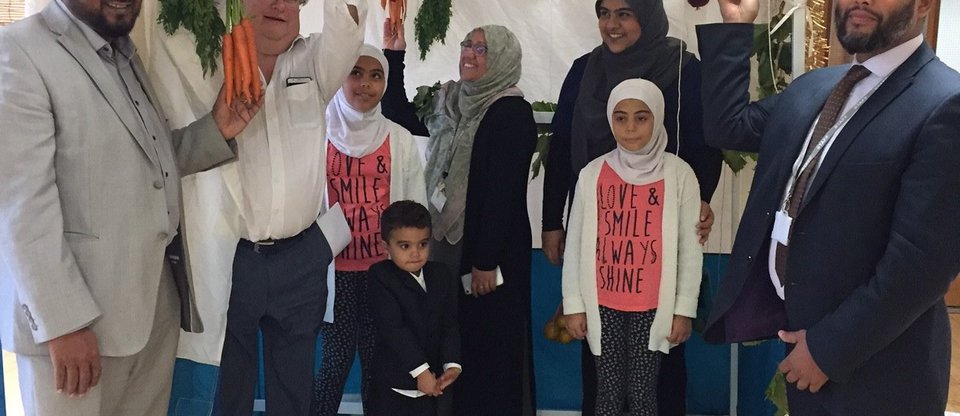 Rabbi Danny Rich joins a refugee family and local Muslim leaders in the Sukkah erected inside the East London Mosque for the launch of Sponsor Refugees.
Danny Rich, Senior Rabbi and Chief Executive of Liberal Judaism , is also working with London synagogues to do community sponsorship of refugees. He says:
"Sukkot is the festival when Jews live in temporary booths and are reminded of the frailty of their existence. Combined with the Jewish historical experience I expect Jews to be particularly sympathetic to those fleeing persecution and disruption. The Community Sponsorship Scheme is tzedakah: social justice in action, and may well contribute to changing vocabulary about, and attitudes to, refugees. I am calling on the Jewish community to put some of its considerable intellect, skills and resources behind the Community Sponsorship Scheme. With support from Sponsor Refugees, we can make a real difference."
Community Sponsorship is based on a successful Canadian scheme where churches, mosques, synagogues and community groups have welcomed and supported 300,000 refugees since 1979.
Tim Finch, director of Sponsor Refugees , says:
"Community sponsorship has the potential to be a quiet revolution in refugee protection in the UK and this government is to be praised for taking a lead in introducing an idea that is now exciting interest around the world. Everyone who hears about community sponsorship is enthused by it, as it gives ordinary people a chance to directly transform the life of a refugee family, not at arms-length, but in their own neighbourhood."
For more information and support email: CommunitySponsorship@citizensuk.org or go to:
Social media accounts: Facebook: @SponsorRefugee
Twitter: @SponsorRefugee
Instagram: @SponsorRefugee
Sponsor Refugees is managed by Citizens UK with funding from Unbound Philanthropy, Volant Charitable Trust and Westminster CARITAS.