Black Organising past and present: Meet the parents making change
'Time For Change: Action Not Words'.
That was the theme of this year's Black History Month. And it's true that the most iconic stories of change-making are rooted in radical acts of Community Organising. After all, Action is to Organising what oxygen is to the body: fundamental.
Inspiration from the past
Making change requires creativity, but inspiration is never far away. From Rosa Parks' Montgomery bus boycott to Dr Altheia Jones-LeCointe's 'Hands off Mangrove' demonstration, the charge for change has been led by Black women Organisers in some of the most influential social justice movements of the last Century.
Olive Morris was one of these pioneers. A local activist organising in South London during the 1970s, her radical Black and feminist activism left a mark across communities. Creativity and courage in the local actions she led best characterize the legacy she left. For example, when leading a demonstration of tenants during the early days of the Black Panther Movement, Olive persuaded mothers to briefly leave their children on Council premises until officials agreed to provide safer housing for them to grow up in.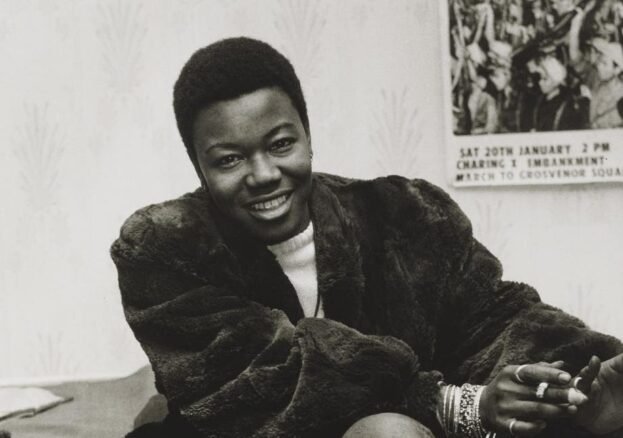 Olive Morris, South London Organiser and community activist, pioneering Black Organising and radical feminist politics in the 1970s.
Regarding her Actions, Olive was brilliant and fearless in equal measure. But she was also a natural leader, fostering trusting relationships with followers that enabled them to build collective power. Within these relationships, the sharing of words creates the energy to act. Such is the importance of community spaces where people can share the issues affecting them and make plans for change together.
Black Maternal Voices: Parent Organisers leading the present
Black Maternal Voices is one of these spaces, running today in Southwark, South London. It is a parent-led group led by Citizens UK's Parents and Communities Together (PACT) project, where Black mothers meet once a month to offer mutual support and discuss the issues they want to change.
Helen is one of the mothers who initiated this work. She reflects on the theme of 'Action Not Words', the group's current activities and campaigns, and how other parents can get involved.
Why is it important that groups like Black Maternal Voices exist, and why did you start the group?
"It is very rare to find groups that centre the experiences of being a Black mother in the UK. The challenges and disadvantages of accessing basic needs are made harder if you are a Black mother.
Black women are four times more likely to die during birth and postpartum, for example. This was highlighted on a Despatches Programme on Channel 4: The Black Maternity Scandal. A group of us at PACT came together to reflect on the program. There was so much anger. People felt defeated and shared similar experiences. Just some of the points raised include the lack of advocacy Black mothers experience during childbirth; not being heard by the healthcare workers, feeling powerless, and being at the mercy of those who look after them.
That first meeting was very intense as we realised we had all been carrying this feeling of injustice within ourselves. At the end we agreed a safe space was needed at PACT for Black mothers, to share their experiences and support each other. We also agreed that we can go beyond just talking, by collectively building more power to fight back against the racial health disparities we continue to suffer from."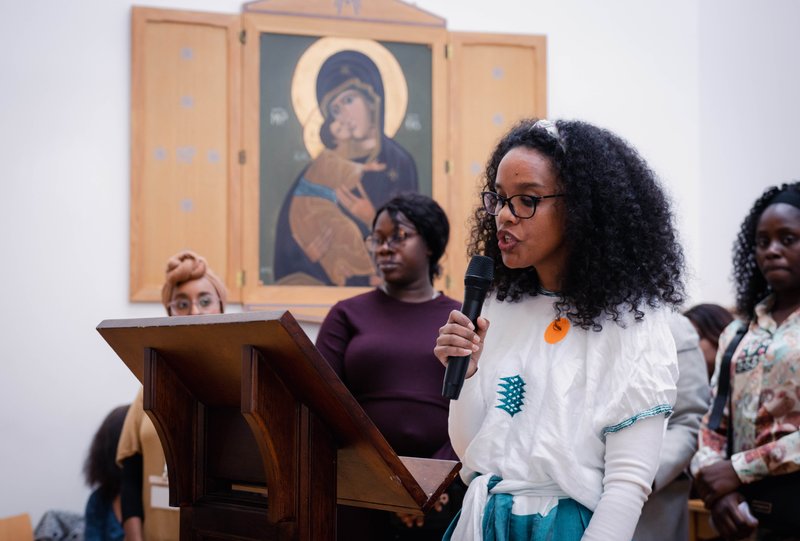 Helen from Black Maternal Voices speaking at a recent PACT Celebration event
---
I was being ignored and it made me think – is it because I am alone, or because I am black. You already feel so isolated and vulnerable. The care you receive really matters A mum sharing her experiences at the first meeting of the group, which went on to become Black Maternal Voices
---
How have you benefitted from being part of this group?
"Black Maternal Voices has allowed me to share my experiences with other Black mothers. I now feel less isolated, less helpless, and more empowered. To be in a space where you have the freedom to say how you feel without worrying that you will upset some people has been a blessing.
When I've raised concerns in other settings throughout life as a Black person, I have either been dismissed or seen as aggressive. As a result of this stereotyping and treatment, I used to keep quiet. However, now I feel supported and empowered.
There are some people in healthcare that treat you like you are less of a person because of your skin colour. However, there are some who want to work with you to make a positive change. I now choose to focus on that."
What are you and other parents working on?
Build and strengthen relationships with local Maternity services including the Maternity Voices Partnership (MVP) at Kings College Hospital.
Promote Black Maternal Voices (BMV) to all PACT groups.
Contribute to PACT's Parent University and embed BMV support as part of the course to ensure parents get proper information about what to expect in childbirth.
Develop a support mechanism for members and expectant mothers between meetings.
Reach out to and collaborate with organisations that have similar aims.
Secure funding to support BMV's work and campaign for better outcomes.
We have monthly BMV meetings on the second Thursday of every month.
We have actively engaged with Maternity Voices Partnership at King's College Hospital, attending the meetings. One of the co-chairs also attends our monthly BMV meetings.
We have had a visit from Tracy Maccormack, Director of Midwifery, and Lucy Hammer, Patient Engagement and Experience Manager (Patient and Public Involvement Team) at Kings College Hospital. They came earlier this year to listen to our experiences and consult with us on improving maternity care for Black mothers.
We are negotiating for monthly protected time (secondment) from a Midwife at King's to support PACT and strengthen the relationship with BMV.
We delivered a couple of sessions at PACT's Parent University and looking to embed these into the course going forward.
Through PACT we have engaged our current Funders to explore how we can work together to reduce this inequality and ultimately eradicate the risk of death for Black and brown mothers locally.
We are developing a partnership with Women's Health & Family Services to pilot their Maternity Mates program at PACT. We are currently working on a joint bid to secure funding to support our work. Watch this space!"
What does 'Time for change: Actions not words' mean to you?
"I believe that those who are affected by racial discrimination should try to do their best to bring about change, however small it may seem. Sometimes there are disheartening situations, and the lack of accountability by those in power can be discouraging. But if we can't, then who can?
Equally, not all the burden of change-making should be on those who experience the issue. For example, those who provide healthcare should not only make promises of change but show it in action. Words without action do not equal change."
What advice would you have for someone struggling, or considering joining?
"My advice to any Black or brown mothers out there who have had negative and/or traumatic experiences, and to expectant parents who are feeling afraid, is to seek out other parents who look like you and start having conversations.
Every healthcare area is different and there may be particular challenges you are facing, such as language, access to maternity care, or more. Talking with other parents helps you to both understand these challenges, and to think about what action needs to be taken to address them. Once you have a small group and realise you are not alone, you will feel stronger and more empowered just like we do at PACT."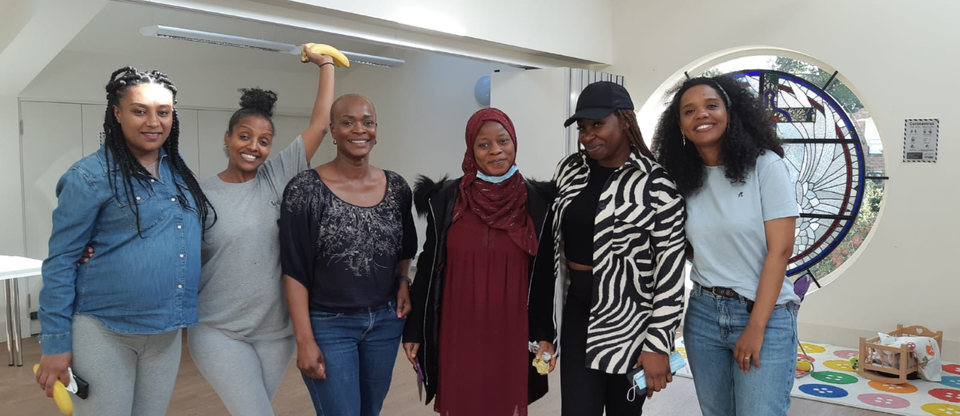 For parents: If you are based in Southwark, you can join us! If elsewhere, still reach out to PACT and we will share our learning with you.
For local funders: We need funding to ensure we can keep building this work, supporting more parents and developing more leaders of change. If you are interested in supporting Black Maternal Voices, or would like more information about us, please contact PACT Lead Josephine Namusisi-Riley using the button below.
Posted by Sylvie Pope on 31 Oct, 2022