Black Lives Matter and structural racism. From solidarity to action
Matthew Bolton, our Executive Director, lays out Citizens UK's response to structural racism:
The killing of George Floyd in the United States has laid bare the extent of police brutality and structural racism faced by black people and people of colour across the world.
We stand in solidarity with those protesting peacefully for Black Lives Matter. We are inspired by their courage, which has painfully reminded us of the depth of racial injustice, including here in the UK.
In England and Wales, BAME groups are four times as likely as white people to be stopped and searched by the police, and black people specifically are nine times as likely to be stopped and searched. [1] The 2011 census showed that black people account for 3% of the population in England and Wales, yet they account for 8% of deaths in police custody. People from BAME group are also over-represented in the prison system in England and Wales where they make up 26% of the prison population.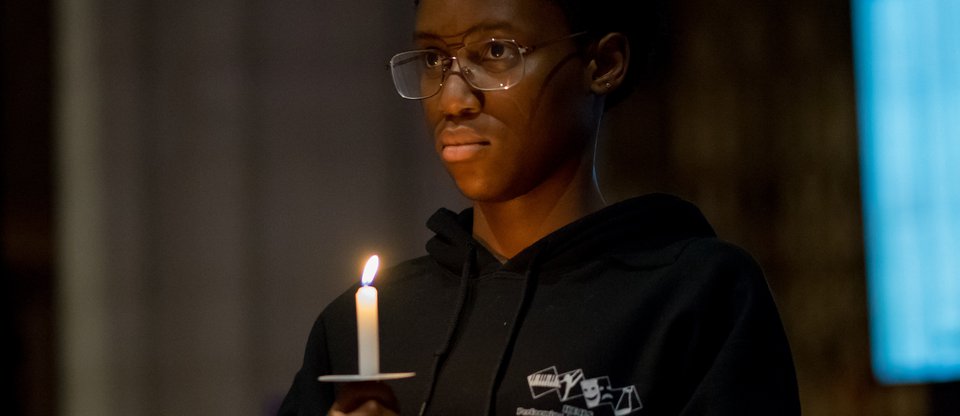 A vigil at our London Citizens assembly with Sadiq Khan in 2018, remembering the lives lost on London's streets
and organising with young people towards better relationships with the police and to tackle school exclusions.
More recently, the disproportionate impact of Covid-19 on BAME communities has also brought into sharp focus the inequalities which our work at Citizens UK has sought to address.
For any organisation right now, especially those seeking justice and working with BAME communities, solidarity isn't enough. It must be followed by action and for us that means redoubling efforts in the campaigns we're fighting and also in the way we tackle discrimination internally. We know we have made mistakes, and we have a lot to learn. We have not always been quick enough, or done everything we could, to break down structures that inhibit or oppress staff and members because of who they are. And we must and will do better.
Over the last 24 months, we had taken some important steps: ensuring name blind recruitment; training staff on discrimination, intersectionality and racism; joining Inclusive Employers to access expertise and best practice; and supporting the development of our BAME staff network. We are taking further action now:
Confirming £30,000 of funding to support the retention and progression of BAME staff.
Training all staff in unconscious bias.
Making meetings more accessible and culturally sensitive.
Adapting and evolving our training curriculum to include an explicit anti-racist approach.
Improving the system of staff mentoring.
Looking outward, we're putting ever greater effort into our campaigns that address injustices where structural racism plays a part. Last month we launched our Living Wage for key workers campaign, and will ensure BAME workers continue to be at the forefront of that campaign, reflecting their greater representation in these workforces. We will continue and build on our efforts to tackle hate crime, reduce school exclusions and increase police accountability for stop and search. We will challenge the injustices experienced by migrants who are undocumented or on no recourse to public funds.
The time for change is now and the appetite is growing. Just in the last fortnight we had 300 people joining our online organising sessions to see how they can help challenge structural racism and be better allies and advocates for these issues in the long term.
[1] https://www.theguardian.com/law/2019/oct/24/stop-and-search-up-by-almost-a-third-in-england-and-wales