Amanda Walters and Bekele Woyecha announced as 'Churchill Fellows' - Citizens UK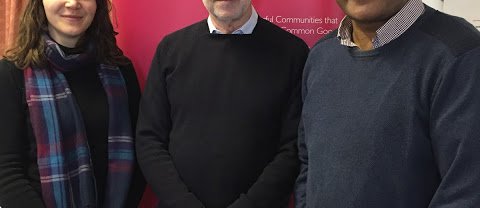 Citizens UK Community Organisers Amanda Walters (left) and Bekele Woyecha (right) with Executive Director Neil Jameson (centre), mark their fellowship announcement.
Just over 40 years since Citizens UK's Executive Director Neil Jameson participated in the Winston Churchill Memorial Trust Program, which operates in memory of Winston Churchill to enable UK citizens from all backgrounds to travel all over the world to learn about better ways to tackle a wide range of issues in the UK, two Citizens UK employees have been selected for the 2018 Fellows intake.
With the only criteria for applications being the 'desire and motivation to improve their community, profession or field', Community Organisers Amanda Walters and Bekele Woyecha have achieved success and will be beginning their programs abroad this year.
Amanda will be undertaking a project called ' How to build a powerful movement of low-wage migrant workers ' in Brazil and Bekele will be working on Community sponsorship: Civil Society at the heart of refugee welcome in Canada.
Both have expressed their excitement at reinstating the link between the work of the fellowship and Citizens UK, following Neil Jameson's work in 1977 which addressed ' Self help initiatives within disadvantaged urban communities to prevent vandalism ', travelling to USA.
Speaking on the news, Neil said: "There's no doubt that travel broadens the mind and I am delighted that two colleagues are following in my footsteps. Without my experience with the foundation in 1977, I would not have seen the excellent work of the Industrial Areas Association and carried that with me for ten years, until I was in a position to start community organising in the UK, starting Citizens UK in Bristol, where everything started."
One former Citizens UK employee, Imogen Moore, successfully completed her fellowship in Harlem, New York, where she transferred her experience of the 'Harlem Children's Zone' project, which developed peer-to-peer parental support, to Citizens UK group 'Parents and Communities Together' (PACT), which has been rolled out across Leeds, Sunderland, Lewisham and Southwark.
To find out more about the Winston Churchill Memorial Trust fellowship, visit https://www.wcmt.org.uk/ .