Reducing child poverty must be top priority for Commonwealth Games legacy
Reducing child poverty must be top priority for Commonwealth Games legacy
Alliance of Birmingham schools, Universities and businesses call for Commonwealth Games venues to pay a real Living Wage to beat child poverty
The day before Prince Harry and his fiancé Megan Markle visited the city to meet local youth projects, 800 Birmingham Citizens packed the Town Hall with Citizens UK
on 7th March
to celebrate the news of the Commonwealth Games coming to the city
Parents and young people affected by a triple whammy of problems spoke up and ask the
Commonwealth Delivery Authority, Council leader and Regional Mayor
to ensure the £750 million investment addresses low wages, housing shortages and a lack of facilities for children and young people
Local headteacher Mark Humphreys led a call for all venues involved in the games to pay a real living wage:
one in four workers in the city are paid below a real Living Wage [1], many of them parents and young people. Several key Games venues including Aston Villa paying less than the £8.75ph real living wage rate
Students, vicars, Imams, lecturers and community workers who make up civil society alliance Birmingham Citizens launched a list of Citizens' Guarantees setting out how the legacy of the Commonwealth Games should look if it is to impact the lives of thousands of poor and disadvantaged children and young people in the region.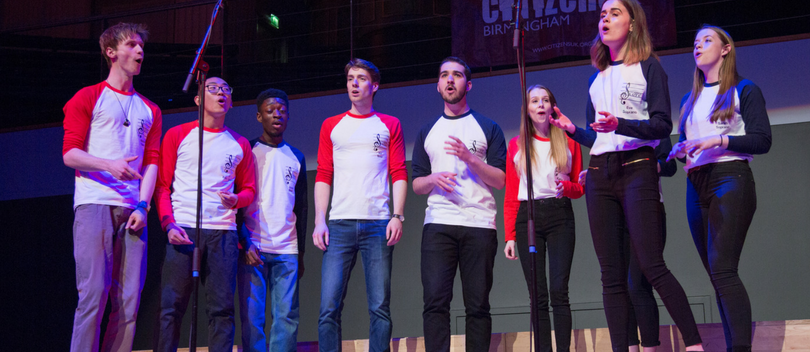 UoB Score Acapella group perform
They are calling for:
everyone working at the Games to be paid the real living wage, meeting the bar set by the London 2012 Olympics
employers to offer paid work experience to young people
access to youth and sports facilities to be widened and made affordable for poorer families
permanently affordable Community Land Trust homes to be built on or near the athlete's village site ensuring families in emergency accommodation benefit
Powerful stories from a series of Birmingham Citizens directly affected by low pay, a shortage of housing in the city and lack of youth facilities and work experience opportunities will be heard on stage. A series of choirs from local schools will lead celebrations of the Games confirmation in 2022.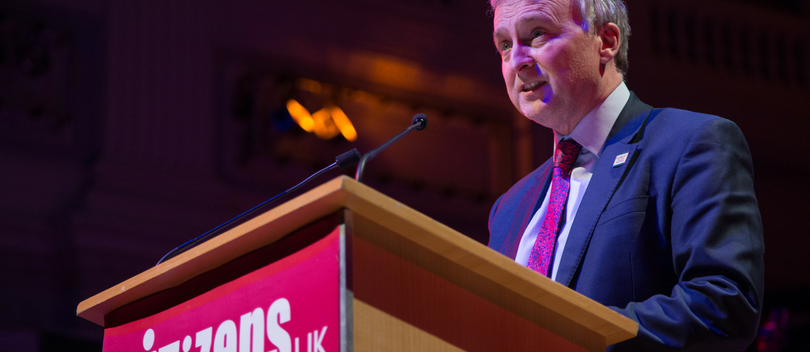 Cllr. Ian Ward responds to the Citizens Guarantees
Aston Villa and other games venues called to make pay commitment
With hundreds of workers at venues associated at the games yet to find out if they'll receive a payrise, a public call will be made for venus including football club Aston Villa, to pay all staff, including cleaners, food servers and stewards, the real Living Wage, going further than the government's minimum
Other asks include clear commitments on reducing the waiting list for young people and families and securing sporting facilities for young people in the most deprived areas of the city [see full list below]
Michael Seal, Chair of Birmingham Citizens said: "Everyone in Birmingham should have a say on these games, from a kid on free school meals, to a busy young mum, to an aspiring young athlete. We warmly welcome these games and lay down our Citizens Guarantees on low pay, homes and youth opportunities as an ambitious challenge to those with the power to give the Games a lifelong positive legacy."
Mark Humphreys, Headteacher St Francis' Catholic Primary Schoo l , who took charge to ensure his school was the first primary school to be living wage accredited in the region, and who is leading the campaign call, said:
"A decent wage and a roof over your head isn't much to ask for but many parents and children still face daily challenges because of poverty and inequality in our city. The games are t he second biggest national investment since the Olympic Games - it's a great opportunity but the money must be spent wisely so that everyone Birmingham sees the benefits. Tonight we'll celebrate the games and ask those in power to work with us to create a positive legacy"
Shale Ahmed, Founder and Director at Aspire and Succeed Birmingham said: "Time and time again, young people and their families, some of whom will see the athlete's village built on their doorstep, have not been consulted in the provision of existing leisure and wellbeing facilities that are inadequate and fail to address the needs of the city's diverse communities. "

"We're asking decision-makers consult with young people from the word go, and relish the opportunity to provide facilities that are affordable, family-friendly with an increased offering of women-only sporting activities. This will not only ensure a meaningful legacy but alleviate pressure on the already struggling youth and health services so that everyone, regardless of age, gender, faith or ability can access a healthy lifestyle."

Birmingham Citizens will call for:
A truly Living Wage Games vision that Citizens UK hopes will be a reality:
Aston Villa and all games venues to accredit as real Living Wage employers by 2022 and all contractors working with the Games to pay a real Living Wage
Ensure the commitment to pay Living Wage doesn't end with the closing of the Games
Housing pledges:
Birmingham Council to put Community Land Trusts at the heart of its long-term housing plan and identifies sites where CLTs can be built
Birmingham Council to ensure that no family ends up being sent out of the city to temporary accommodation because of a shortage of housing during the games
Youth opportunity
Invest in sporting facilities consulting with young people in the poorest wards in Birmingham
Work with local employers to create hundreds of paid work experience opportunities during the games
[1] KPMG research, November 2017
-ENDS-
For more information, contact Katy Davies or Andy May on 020 7043 9886 OR 07535135663 or email andy.may@citizensuk.org / katy.davies@citizensuk.org
Notes to editors
About Birmingham Citizens
A diverse alliance of 25 schools, Universities, trade union branches, charities, mosques and churches, our members support hundreds of thousands of Birmingham residents. Founded in 2013, we have trained over 300 leaders on acting in public life through the method of community organising.
About Citizens UK
Citizens UK organises communities to act together for power, social justice and the common good. The home of community organising in the UK, we have diverse civil society alliances in London, Milton Keynes, Nottingham, Birmingham, Wales, Leeds, Newcastle and Manchester. We develop the leadership capacity of our members to organise against social injustice affecting their communities.
About the real Living Wage
The real Living Wage was launched by Citizens UK in 2001. It is the voluntary rate some businesses accredited by the Living Wage Foundation voluntarily pay to ensure their staff have a basic salary that meets the cost of living. The UK Living Wage is currently £8.75 per hour. The London Living Wage is currently £10.20 per hour. This figure covers all boroughs in Greater London. These figures are calculated annually by the Resolution Foundation and overseen by the Living Wage Commission , based on the best available evidence on living standards in London and the UK.
The Living Wage Foundation recognises and celebrates the leadership shown by Living Wage employers across the UK by accrediting those who pay the higher real living wage rate. Employers choose to pay this wage on a voluntary basis. There are currently over 3,800 accredited employers.
What about the Government's national living wage?
This government rate is a minimum wage rate for staff over 25 years old. It was introduced in April 2016 and the current rate is £7.50, rising to £7.73 in April 2018. The rate is separate to the Living Wage rate calculated by the Living Wage Foundation. The government rate is based on median earnings while the Living Wage Foundation rate is calculated according to the cost of living.
*Workings based on a 37.5 hour working week and a National Living Wage Hourly rate of £7.50