Pay Rise for Carers Agreed by Birmingham Council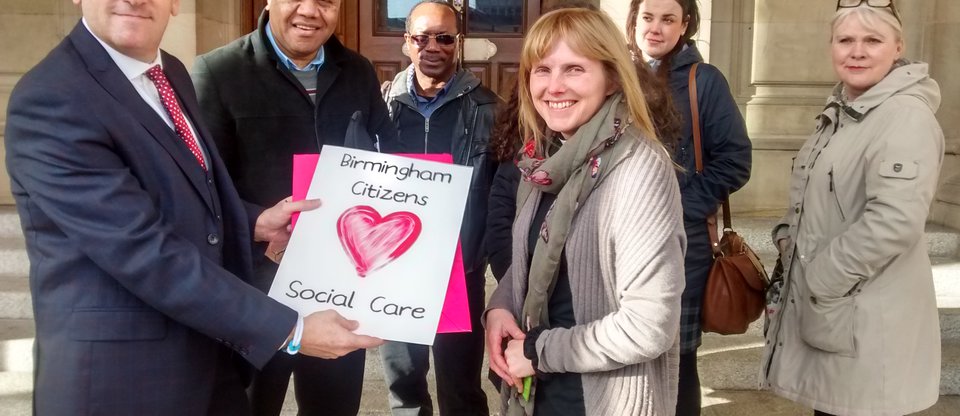 Leaders from Citizens UK Birmingham attended the February Council meeting to ask Councillors to commit to their social care campaign by raising council tax by 2% to better fund social care. Before the meeting, leaders handed Council Leader John Clancy an early Valentine's Card urging him to show love to low paid carers.
Caz Hague, a Methodist minister in Northfield and Kings Norton said: "We're working with people who need care, and that care gives them a sense of dignity. But we also work with carers who struggle to make ends meet. It is true we pay the least to those of care for those we love the most."
The Social Care Action team were responding to the Chancellors announcement which allows local authorities to increase Council Tax by 2%, enabling Councils to cover the rising costs of care.
At the meeting Emma Coleman posed the question "We're here from Citizens UK Birmingham because we really care about care. We are and know care workers and care recipients and it's not easy for either. We know the sector is under huge stress, but will you implement the Chancellor's offer of raising 2% council tax to fund social care better - and will you make sure it goes towards paying care workers a Living Wage?"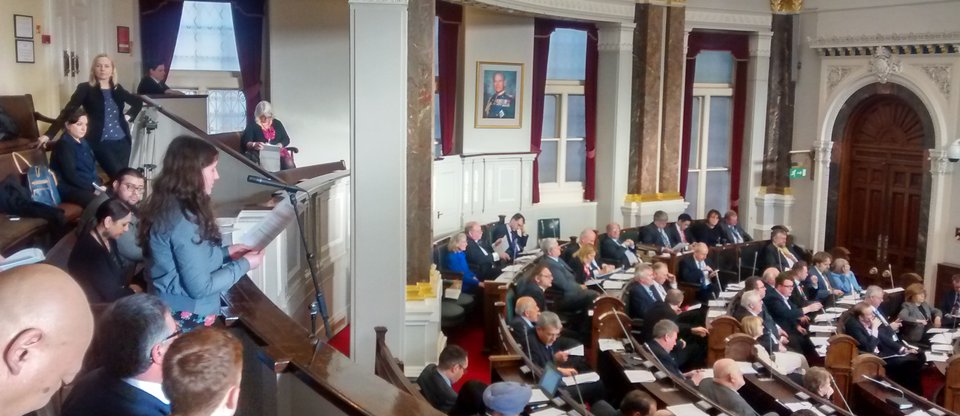 Councillor Ian Ward (Labour, Shard End) replied "I've always said there is something wrong with a society which places those we love the most into the care of those we pay the least."
He said that from April all council staff will be paid at least £8.25 per hour. "It is our intention to move workers in the social care sector, who are mainly women, onto the Birmingham Living Wage as soon as possible."
The council is set to implement the social care charge, an average £20 per year per household, in its 2016/17 budget, and expects to raise an extra £5 million pounds, less than half of the amount forecasted as necessary to cover the extra costs of care services for Birmingham's elderly and disabled.
While directly employed council care staff are paid at least the £8.25 rate, many who are employed in the private or charity sectors are not. There were concens that redundancies would have to be made to cover the costs of pay rises, however the council will make it a condition of extra funding that staffing levels are maintained by providers.

Councillor Ward pledged to work with care providers, both private sector and charities, to raise the pay of care workers beyond the new £7.20 per hour minimum wage nearer to the £8.25 per hour Birmingham Living Wage, which the council pays its own staff.