Migrant community businesses organise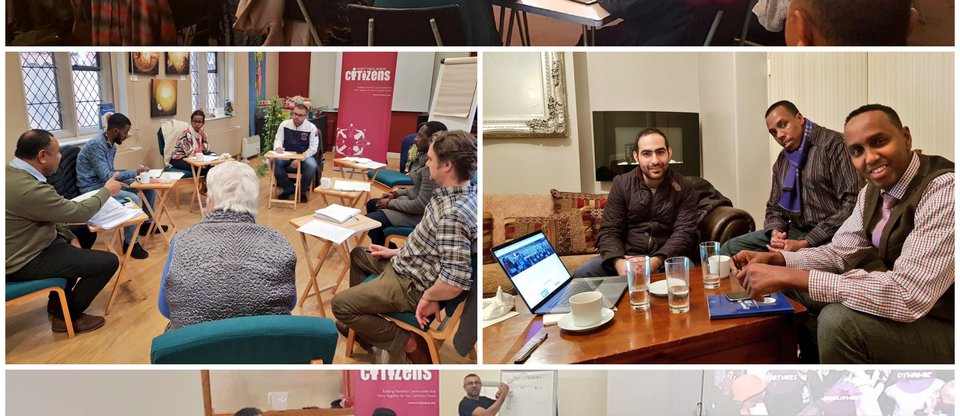 Citizens UK is the national home of community organising where people powered democracy is put into action by civil society alliances in over 14 towns and cities. One of its oldest alliances is here in Birmingham where since 2013 faith, education, trade union, community and enterprise organisations have teamed up to win change on range of issues from living wage, neighbourhood safety, youth mental health and refugee welcome. This craft of community organising does more than focus on campaigns, it is preoccupied with the importance of people being able to participate in public life and affect decisions affecting their lives. Being at the table, not on the menu.
So, when over 500 community leaders from Citizens UK packed the Great Hall of the University of Birmingham in March 2015 calling on the elected leader of the city council to resettle 50 Syrian refugees from UN Camps, unbeknown an important chain of events was launched which will agitate local agencies to think differently about the world of business support and inclusive growth. One of the attendees, Professor Monder Ram, the Director of the Centre for Research in Ethnic Minority Entrepreneurship ( CREME ), quizzed me about the diversity and scale of the participation he witnessed in the Great Hall, as many were from ethnic minority backgrounds public agencies often say are so 'hard to reach'.
So, 18 months later - after a series of focus groups - the first ever project to try and use community organising tools to get business support to entrepreneurs in local High Streets frequented by Birmingham's migrant and refugee communities was created.
'Pounding the streets'
Called the ' Business Leaders Project' , a unique partnership between Citizens UK, CREME, NatWest Bank and the Growth Hub of the Greater Birmingham & Solihull Partnership was established between 2017 and 2019 to reach out to 300 ethnic minority business owners working intensively with 60 of them through a combination of free surgeries, workshops, events and 1-to-1 help.
The person on the ground was Dr Mosese Dakunivosa who through slow, respectful work established relationships with business owners in the 'economically disadvantaged' neighbourhoods of Lozells, Small Heath & Sparkbrook. Most of these shop keepers, internet cafes, money exchanges, independent gyms and social enterprises had never received any help before from the region's long running business support agencies. Few were hardly ever contacted in person, and if they were it tended to be a council officer regarding trading standards or regulation. Their communities and high streets did not appear in the city's promotion to visitors, so much so major international sports and cultural events will be held in the city with little if any trade benefit to these neighbourhoods.
What Mosese found from 'pounding the streets' listening and working with every business owner were the following:
They did not have a relentless urgency for 'Growth' - as in scaling up to be a major business with £1M+ turnover in a short period of time. They were mostly keen to survive long-term.
Navigating housing, education, immigration and community safety issues were as important to them as 'working on their business.'
Many prioritised their contributions to their community by offering regular time, money and energy to support a place of worship, charitable causes and/or diaspora network. Perhaps contrary to traditional British business sentiment of 'you give back when you've made it'.
Trust and relationship building were vital for their participation, as because of their experiences of (2) above, anyone from a public agency might be starting on a deficit.
Inclusive Growth
During recent years, the term 'Inclusive Growth' has become topical on the radar of policy makers and Think-Tanks. The OECD says, ' Inclusive growth is economic growth that is distributed fairly across society and creates opportunities for all .'
In Autumn of 2019, Citizens UK teamed up with NESTA to unpack what a community organising approach to Inclusive Growth might look like using Birmingham and East London as case studies, with researchers evaluating both. The plan in Birmingham was to focus on how community organising for the upcoming regional elections might develop greater public participation and leadership capacity of the entrepreneurs to secure pledges on important local issues such as access to opportunities arising from the Commonwealth Games.
A significant amount of work was undertaken to hold events and workshops to pin a set of specific priorities for whoever was seeking to be our next Regional Mayor and Police Commissioner. A logistical road map was implemented to organise up to 1000 people to return to the Great Hall of the University of Birmingham on the 1 st of April 2020. Unfortunately, all this intensive effort was brought to a halt when the Covid-19 pandemic arrived, and the country entered lockdown in March to deal with the biggest threat to public health in generations.
Covid-19 & Leadership
Immediately, Citizens UK: Birmingham launched a rapid listening campaign to connect with member institutions & community businesses we worked with. Daily telephone calls and online meetings with different faith, education, trade union, business and community leaders revealed a combination of anxiety and uncertainty about the impact of the virus to people's safety, income and simply way of life. ONS data from April showed the super output areas with excess Covid-19 deaths in Birmingham were where they worked or lived in.
Our response was to focus on what will support every organisation and business we worked with to meet the challenges they now faced, instead of establishing our own Covid-19 mutual support helpline in the city. The excellent co-ordinating work of the Birmingham Voluntary Services Council demonstrated the third sector were 'quick off the blocks' to arrange local mutual support groups offering food parcels and other help to vulnerable households. They included many of our member organisations acting with others in their localities to get basic help to those most at risk.
There were three key aspects to our response with business owners:
Establish a Leadership Group
With some of them having years of previous 1:1 engagement through the Business Leaders Project and in recently being involved in shaping the now cancelled pre-election Assembly, there was strong commitment to team up to build their collective power to survive this monumental test.
Deal with immediate threats .
Sisters Care Ltd, a small care firm and a social enterprise, faced huge risks as they were in the bottom of the pecking order to get personal protective equipment (PPE) gear to work because they were not an NHS organisation. A social media campaign by some of the Business Leaders project partners backed by a special Sky news report eventually resulted in donations of PPE gear arriving to them.
Take collective action
An online round-table meeting the Senior Officer at Birmingham City Council overseeing the newly announced Business Grant from Government resulted in many of them understanding the eligibility criteria, applying and securing this help.
Responding to a tender with 5 of them to help the Council get key public health messages to several different communities was successful offering capacity for some of them to remain operational.
A round-table meeting with the Cabinet member for Transport was held urging him to seek further support from government and to consider delaying the roll out of the Clean Air Zone beyond January.
Moving forward into the rest of the Summer of 2020, the priority will be to strengthen the Business Leadership Group as their immediate focus moves on to what being 'Covid-secure' means and to step up their participation to shape recovery plans by those in power in the region. More training, collective action and learning is to follow to ensure our exploration of Inclusive Growth is truly about people being 'at the table and not on the menu' at a time when it matters the most.