Citizens UK Celebrates Commitments to End Indefinite Detention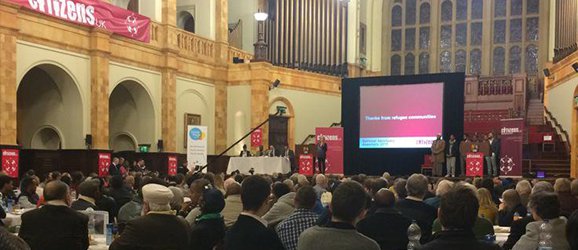 Over 600 Citizens UK members gathered in the Great Hall, University of Birmingham, last night and heard Shadow Home Secretary, Yvette Cooper MP, answer their call for an end to indefinite detention, by announcing that should Labour be elected this May, they will commit to end indefinite detention, and using best practice guidance, put in place a time limit for detention when it is necessary for immigration purposes. Yvette Cooper confirmed this commitment would be a part of the Labour Party manifesto. This followed an announcement by the Liberal Democrats at their spring conference last week that should they be elected they would end indefinite detention, and Baroness Sally Hamwee reiterated this commitment on stage in Birmingham with Citizens UK. The Rt Hon Desmond Swayne TD MP, Minister of State at the Department for International Development said they would continue to work with Citizens UK around the issue of both indefinite detention and resettlement of refugees and confirmed a record £800 million in aid is being spent in the region.
Citizens UK, the home of community organizing, is an alliance of over 400 civil society institutions including churches, mosques, synagogues, trades unions, schools and colleges who have created a manifesto ahead of the general election in May, focusing on areas its members reported as the issues impacting their communities.
At the heart of the manifesto is the call for the UK to revive its proud tradition of offering Sanctuary to the most vulnerable and needy. This includes a call to end indefinite detention and to ask all parties to commit to increasing the number of UN refugees the UK admits from countries such as Syria, from just 750 to 1,500 per year.
Zrinka Bralo, campaign leader, Citizens UK said:
"We are delighted that Shadow Home Secretary, Yvette Cooper MP, tonight, at the Citizens UK Birmingham Assembly for Sanctuary, announced Labour's commitment to end indefinite detention in the UK. This was followed by Liberal Democrat Peer, Baroness Sally Hamwee, who also responded positively, and repeated the commitment they made at their spring conference to end indefinite detention. We made the same ask to The Rt Hon Desmond Swayne TD MP, Minister of State at the Department for International Development and look forward to working with the Conservative party to continue conversations around our asks.
"Indefinite detention is a stain on the character of Britain. Detaining people indefinitely in prison-like conditions without judicial oversight is unfair, unjust, ineffective and inhumane. It destroys lives and breaks up families. The current system has a high human cost, but it also has huge financial implications for the tax payer who have to fund holding people in expensive, prison-like conditions.
"This isn't about an open-door immigration policy; it's about establishing a time limit to help ensure that refugees and migrants are treated with dignity while they are here, on their way in and on their way out."
Members of Citizens UK: Birmingham asked Sir Albert Bore, Leader Birmingham City Council, to commit to offering sanctuary to 50 UN refugees through the UNHCR scheme, in a bid to encourage central government to increase the number of refugees the UK will resettle.
Raja Khan, Aspire Supported Living and supporter of Citizens UK Birmingham said:
"The UK has a proud tradition of offering sanctuary to the most vulnerable. There is so much debate and comment around immigration at the moment that it seems we've lost sight of the plight of refugees. These two issues are completely separate, this is about truly desperate people and innocent children who have experienced horrors we cannot imagine and need more than a tented camp.
"The UK has generously given aid, but has resettled a pitiful number of refugees from places such as Syria, despite local councils being able to receive EU funding to support refugee resettlement.
"As a community we have organised and can offer support in the form of housing provision, befriending schemes and education opportunities in support of Sir Albert Bore's commitment to offer sanctuary to 50 UN refugees. We can also offer housing provision in other areas of the Midlands to help other council leaders considering our refugee resettlement ask. We call upon council leaders across the country to follow Sir Albert's lead and commit to welcoming a modest number of refugees to their towns and cities with the support of their communities."
Citizens UK Birmingham members were joined by refugees from Syria, individuals from across the country who have suffered the indignity and trauma of indefinite detention, Council Leaders Cllr Kevin Davis, Royal Borough of Kingston, and religious leaders including Rabbi Danny Rich, chief executive Liberal Judaism and Bishop of Birmingham, David Urquhart who are working together on these important issues.
Cllr Kevin Davis, Leader, Royal , Royal Borough of Kingston said:
"We are working with the UNHCR and are aiming to have resettled 50 refugees to our borough by the summer. I will actively campaign to encourage my fellow council leaders across the country to also offer sanctuary to 50 refugees in their towns and cities with the support of local organisations."
Rabbi Danny Rich, Citizens UK Sanctuary campaigner and chief executive, Liberal Judaism said:
"Communities from across the UK are calling upon their local council leaders to consider offering Sanctuary to a small number of UN refugees who need more than the aid offered in a tented camp. They need the safety and security of a home in the UK. Often these refugees are family groups that have children with severe medical needs, or have been the victims of torture. We know that offering Sanctuary is not easy when council budgets are already stretched, but leaders like Cllr Kevin Davis, Royal Borough of Kingston and Cllr Roskams, Malvern District Council, have already made a wonderful commitment to offer refugees a place of safety after successful negotiations with civil society groups in their areas. When councils have the support of local people, together we can make this happen."