Brenda Wangari
Brenda Wangari
I started working with Citizens UK:Birmingham in January of this year through my university. Right now, I am campaigning on the issues surrounding temporary housing. I have been housed in temporary accommodation in the past, so for me, this is an issue very close to my heart.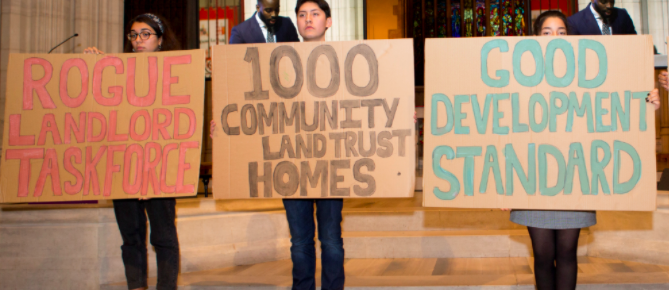 I recently participated in Citizen UK:Birmingham's assembly where we spoke to Mayoral candidates on the issues of temporary housing and other priorities to strengthen our community as a whole.
At the assembly, I spoke with two children and what I found out was incredibly shocking: they were only 10 and 12 years old but they had already been moved around at least six different accommodations in their lives.
One had even been moved to Manchester and had to travel two hours back to Birmingham every day for school. It was staggering to understand they had never had the chance to experience what a permanent home is.
I know that these two children's stories are just the tip of the iceberg. There are many more families who will never have their voice heard. It is shocking that this is happening in 2021, but that is why we are campaigning for change.
For example, here in Birmingham, we are seeing a lot of construction and many new apartments being built ahead of the Commonwealth games. The area is now becoming gentrified and it seems the priorities are making the city look as beautiful as possible—rather than providing truly affordable housing. This is while there are still over three thousand families living in temporary accommodations in my area. But having somewhere to live should not be seen as a luxury.
We are therefore asking the Mayor to ensure that 20% of housing built for the Commonwealth Games are affordable, and of which at least 3,064 should be social rent family homes. We need to take this opportunity to provide more social homes and invest in the lives of people who live here.
We will continue to campaign to shine a light on the issues surrounding temporary housing and what can be done to address them. Soon we are meeting again with Andy Street and Liam Byrne, and are looking forward to the opportunity to hold them accountable to their word on temporary housing. This is an important issue in our society and these are basic needs that are not being met. It is time to focus all our efforts to ensure everyone living here has a home.
Please spread the word. Share Brenda's story and asking Mayoral candidates to act on housing.
Posted by Ana Ramirez Mourraille on 28 Apr, 2021