2019 Delegates Assembly Update
Please click below to read a message from Citizens UK Birmingham Co Chairs Liz Coleman and Richard Campbell, following our Chapter's Delegates Assembly.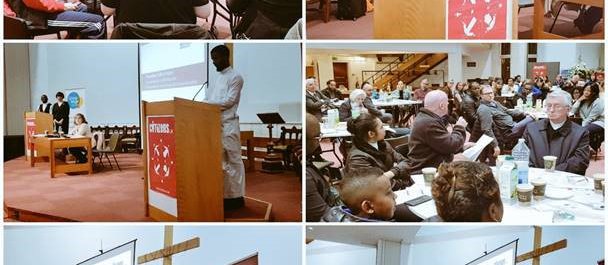 It was great to have so many colleagues from faith, education, union and community organisations spend the evening together last week at our Spring Delegates Assembly.
We extend our huge gratitude to all the speakers and volunteers, in particular to our young leaders: Rami, Suldan and Caprice for their opening reflections; and to Stella for her courage to share her family's story with us. A special thanks to Hamza for performing 'The Adhan' as he allowed us to pause in remembrance of Christchurch, Nigeria and beyond.
The main mission of the evening was to build and strengthen relationships. So it was wonderful to have so many new friends join us as our work grows across the city, especially in South Birmingham.
Please kindly spend a few moments checking out what's coming up before and after the Summer holidays.
This month, we've got 3 unique training workshops:
On Tuesday (9
th
April) evening we'll introduce the tools and techniques for a community organising listening campaign On Friday (12
th
April) afternoon we have a workshop on what do we mean by institutional development and why we have a whole strategic priority to it? On the last week of Easter holidays, Wednesday (24
th
April) evening , we'll be learning the art of negotiating as a team with those in power as we have dates coming up to put it to the test - with our city MPs on sanctuary and senior officials at the Council, the Regional Mayor and the Police Commissioner.
And finally, the homework we agreed to do: Listen – to find the stories, the leaders and the energy in our institutions and communities. Please contact Saeed and Mosese to share your listening campaign plans, so you can maximise their time and support. Remember we are seeking to go deep – so strong opportunities for doing 1-2-1s and in small groups.
We look forward to reuniting at Carrs Lane on Wednesday 3 rd July to hear what you've found.