Creating fairer pathways to Citizenship
Creating fairer pathways to Citizenship
Creating fairer pathways to Citizenship
Many of us and our neighbours are unable to participate in the economy, our communities or in public life because of barriers to Citizenship.
This makes life very difficult for communities across the UK which face barriers to work or to accessing crucial services like the NHS, criminal justice, or education funding. We are calling for a fairer pathway to citizenship to support everyone who has made Britain home to contribute to our economy and society.
There are approximately 2 million people living in the UK with insecure migration status – meaning that they are not British Citizens, and do not have Indefinite Leave to Remain. This includes people facing a range of circumstances, outlined below:
Undocumented people
There are hundreds of thousands of people living in the UK without status, the majority of whom arrived in this country through a regular route, such as a student visa or spousal visa. A number of factors such as personal tragedy, domestic violence, being the victim of a scam or prohibitive fees have led to them becoming undocumented. This means that, despite many of them living here for more than a decade and having nowhere else to go, they cannot work and pay taxes as they wish to and are vulnerable to exploitation. The Home Office has no record of where they are living, and the complexities of the current system mean that the number of undocumented people in the UK continues to rise.
Developing a one-off scheme to regularise undocumented people (as was done successfully in Ireland last year) would bring people in this situation into the regulated economy, allowing them to work, pay taxes and fill skills shortages.
There are still over 165,000 vacancies in the social care sector, with demand for care continuing to increase.. There are opportunities to support people already living in this country who have the skills, knowledge and desire to join the workforce rather than create expensive recruitment pathways, or recruit from overseas. It is common sense to remove the barriers to recruitment from the pool of people already in the UK and enable them to access qualifications and support which will enable them to give back to the communities they live in. Executive Co-Chairman at National Care Association (NCA) and Chairman at Care Provider Alliance
Research by Citizens UK finds that regularisation would bring additional tax revenues of an estimated £2,015 per person. It would also help to boost the economy by addressing workforce shortages. This research is one of the first in the UK to assess the economic implications of settling immigration status' by using a sample of people already living here.
Asylum seekers
Asylum seekers, just like undocumented people, are ineligible to work while their application is considered. This acts as a needless barrier to integration, as well as to the other benefits of wider economic participation.
As waiting times for asylum decisions lengthen, this ban on asylum seekers working becomes even more problematic, as individuals are driven into poverty, and become vulnerable to exploitation with no means to support themselves.
Lifting this ban would allow asylum seekers to support themselves through regular employment, while addressing skills shortages at the same time.
No Resource to Public Funds – childcare
Many people living in the United Kingdom are subject to "No Recourse to Public Funds" due to their immigration status. This means that they are unable to access most aspects of society's safety net: including benefits; housing support; child benefit; free school meals; or even the NHS.
This can have negative consequences for Britain's workforce. For example, by preventing families subject to NRPF from accessing the 30 hours of childcare support that parents are entitled to for 3 year olds; the Government is preventing many parents (especially women) from being able to enter the workforce.
This increases the number of people who are long-term unemployed in the UK, and blocks another route to resolving labour supply shortages.
No Resource to Public Funds – stifling entrepreneurship
No Recourse to Public Funds also suppresses positive risk-taking and entrepreneurship. Migrant communities in the UK are full of creative and talented people who want to start businesses and contribute to our economy. But NRPF prevents them from being able to take these risks, as entrepreneurs often require access to society's safety net when they are starting a new venture.
NRPF prevents positive risk-taking, and limits the productivity of people who are keen to contribute their full talents to the UK economy.
I'm a mom of three. I've been in the UK for the past nine years. I've been able to get by with help from a community organisation, where I can share my ideas and help other parents. But I want to work. I want to work so that I can add meaning to my life and give my children a better future. I'm really inspired to learn and work and contribute to this community. Abigal
English as a Second Language Courses
Funding for English for Speakers of Other Languages.(ESOL) has been reduced, meaning that there is often not sufficient provision for people from diverse communities in Britain who would benefit from improved English language skills.
Language skills are a significant barrier preventing people from becoming more productive economic participants and the lack of sufficient ESOL provision leaves many migrants underemployed. If the Government invested further resources into ESOL courses, this would boost the participation and productivity of many people from migrant communities.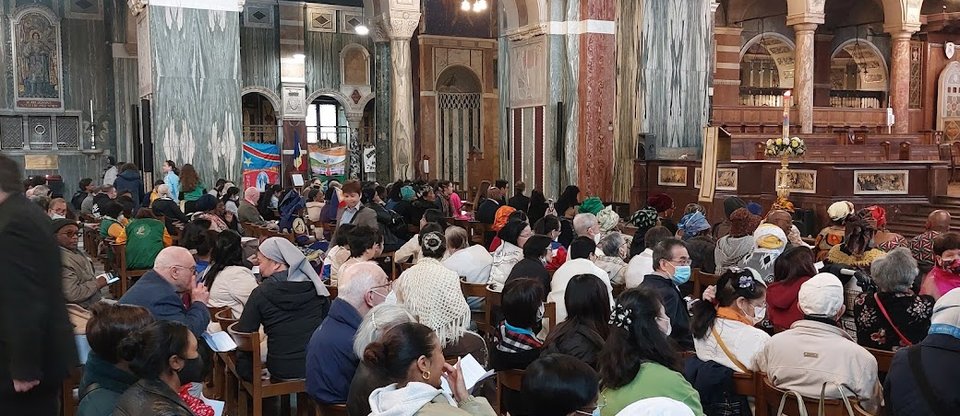 Settle Our Status
We believe that we should care for our neighbours, wherever they were born and whatever their immigration status. We are calling for 'settled status' for all who call the UK home.