Parents and Communities Together (PACT) Esp.
Parents and Communities Together (PACT)
Parents and Communities Together (PACT) es un proyecto comuntario creado para apoyar y empoderar a padres/madres. El proyecto comenzó en Southwark, Londres, y ahora está también en North Tyneside y Leeds. Su objetivo es mejorar los indicadores en salud y desarrollo de los/as niños/as pequeños/as.
Ofrecemos una variedad de talleres semanales, un espacio al tiempo divertido para que los/as niños/as jueguen y un entorno seguro para que los padres/madren consoliden una red de apoyo y compartan sus experiencias. Acá encontrará más información de PACT.
Al proporcionar una conexión humana confiable, conectamos con comunidades que normalmente no accederían a los servicios sociales y de salud. PACT ha demostrado que al utilizar métodos de organización comunitaria podemos tener un impacto significativo.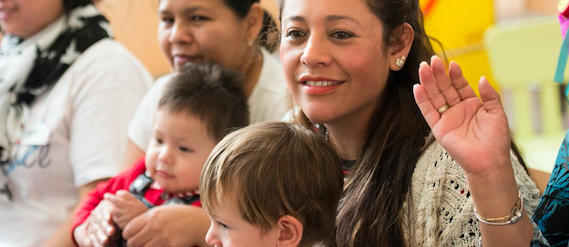 ¿Qué hacemos?
Madres/padres, voluntarios/as, organizaciones educativas y religiosas, servicios de maternidad y centros para niños/as nos unimos para desarrollar talleres y actividades que respondan a las necesidades de nuestra comunidad. Esto incluye talleres que cubren acerca del sueño y el control de esfínteres hasta el estrés y el bienestar; así como nuestro curso semanal Family Food Club (Club Familiar de Comida) y Parent University (Universidad para Papás/Mamás) (un curso prenatal y posnatal para madres y parejas).
Hacemos talleres presenciales y en línea, brindando apoyo a los/as padres/madres y sus hijos/as en primera infancia. Nos enfocamos en la salud y el bienestar, particularmente la salud mental materna.
También trabajamos con profesionales de la salud, con parteras y visitadores/as sanitarios/as, para ofrecer apoyo clínico y orientar a los/as madres/padres hacia otros servicios.
Lideresas clave para esta campaña
Elsie Mumah (Settle Our Status, Parent Commissioner, London Youth Safety, NHS fees for migrant women)
Danna Michelley Quinos (Just Transition)
Abieyuwa Ehondor (Settle Our Status, NHS Fees for migrant women)
Yaneysi Brito (Settle our Status)
Kely Jiménez (Latin American representation)
Amy Norris (Settle Our Status)
Carina Faria (Southwark housing campaign and Just Transition)
Munira Nesredin (Parent Lead at PACT's steering group)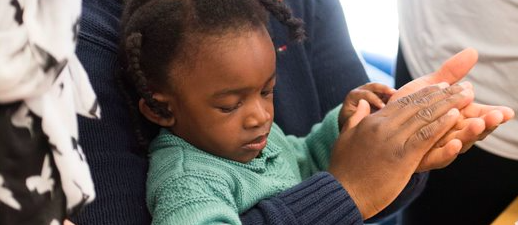 Key facts and figures
Una evaluación reciente de nuestro trabajo realizada por King's College London encontró que el 40% de las madres que vinieron a nuestro grupo MumSpace estaban en el umbral de recibir algún tipo de intervención de salud mental, pero después de seis meses el 68% se había recuperado por completo.
La misma evaluación encontró también que la red de apoyo social de los padres/madres aumentó significativamente después de seis meses de asistir a MumSpace. Los/as padres/madres indicaron un aumento promedio del 12% en la cantidad de personas en las que podían confiar y pedir ayuda si fuera necesario.
Una evaluación reciente de nuestro Family Food Club realizada por The Social Innovation Partnership (TSIP) encontró que 82 familias tenían acceso a excedentes de alimentos cada semana gracias a este programa. También encontraron que 73 familias se registraron para los vouchers de Alexandra Rose, lo que les dio acceso a frutas y verduras frescas de East Street y el mercado de Brixton.
Luego de una listening campaign para determinar el impacto de la pandemia en nuestra comunidad, PACT ha respondido con éxito a dos de las tres barreras identificadas: confianza y conocimiento para navegar online; acceso a Wi-Fi y dispositivos. Entre marzo y octubre de 2020, hemos apoyado a 65 familias para que se conecten en línea con apoyo digital individual y grupal, y proporcionamos Wi-Fi y/o dispositivos a 46 familias.
King's College London revisó recientemente nuestro curso en Book Sharing, donde las familias pueden desarrollar las habilidades y la confianza para compartir libros e historias con sus hijos/as. King's College London afirmaa que muchos/as madres/padres estaban de acuerdo en que su conocimiento de su hijo/a mejoró, su relación con su hijo/a mejoró y su hijo/a pudo participar en otras actividades educativas.
Siempre he estado contento de ser papá y bastante confiado, pero DadSpace no solo ha aumentado mi confianza personal, sino que me ha hecho darme cuenta de que los papás pueden ofrecerse mucha ayuda y apoyo entre sí, y que compartir nuestras experiencias (alegrías, y dolores) es importante y gratificante. Sebastian Crankshaw, padre que asiste a DadSpace en Southwark.
Los sentimientos de aislamiento que sentí hace unos meses han sido reemplazados por un sentido de pertenencia. He conocido a muchas mujeres encantadoras que están en el mismo viaje que yo y con las que puedo abrirme. PACT ha creado un entorno en el que puedo equilibrar la maternidad y el crecimiento personal y estoy agradecida por eso. Hailu, una madre líder en los grupos de Southwark Family Food Club y MumSpace.
Cuando estoy acá, me siento libre. Desde que se vinculó con PACT, Elsie Mumah se ha convertido en una líder comunitaria clave, trabajando con Citizens UK en una serie de campañas, como Settle Our Status, Youth Safety y poner fin a las tarifas del NHS.
Ser parte de PACT me ha traído una nueva familia y un sentido de pertenencia a mi comunidad que de otro modo no habría sentido. También me ha mostrado lo que realmente quiero hacer con mi vida y me ha creado una nueva pasión por querer ayudar a las personas. Carina asiste y es voluntaria en MumSpace, ayudó a recaudar dinero para la comunidad vendiendo ropa donada.
Una breve historia de la campaña
En 2015, Southwark Citizens invitó a los/as madres/padres locales a reunirse y hablar sobre los problemas que los afectan y cómo podrían recibir un mejor apoyo. Los/as madres/padres querían una comunidad; un espacio para reunirse, jugar y acceder a recursos y educación para madres/padres. En respuesta, se lanzó MumSpace.
Durante estos meses iniciales, Grace Romero una mamá latinoamericana pidió ayuda a Southwark Citizens ya que estaba embarazada y, debido a la barrera del idioma, no había recibido un chequeo.
Después de conectarla con una partera de habla hispana, Southwark Citizens le preguntó a Grace si conocía otras mujeres que tuvieran un problema similar. Grace dijo "Sí, muchas" y juntas lanzaron el grupo Espacio Mama.
A lo largo de los años, el proyecto MumSpace se ha expandido y PACT ahora tiene nueve grupos: dos grupos MumSpace, dos grupos Espacio Mama, Family Food Club, Parent University, Book Sharing, Babies @ MumSpace y DadSpace. Nuestros grupos MumSpace, Espacio Mamá y Babies @ MumSpace están dirigidos por madres/padres y voluntarios/as anteriores de PACT.
En 2018, PACT se expandió a Leeds y North Tyneside. Con la esperanza de que las actividades de PACT pudieran reproducirse, las ubicaciones se eligieron en función de la fuerza de las alianzas en esas áreas y niveles de necesidad.
¿Cómo me puedo involucrar?
Buscamos voluntarios/as que puedan apoyar a los/as madres/padres y niños/as pequeños/as que asisten a nuestros grupos semanales.